Good Food, Good Friends, Good Alcohol
Saturday afternoon was spent tidying up the house and running around various outlets looking for bedside cabinets to no avail. It's a real hassle to have to lean out of your bed in the morning to turn the alarm off or fumble around in the dark trying to find a glass of water. So that'll be on next weekends list of things to do.
For dinner I bammed up some sweet potato and lentil soup. Since it was the first meal in the new house I took the liberty of photographing it. Here's a quick recipe for it too:
100g lentils
1 onion
garlic clove
2tsp curry paste
450g potatoes, cubed
450g sweet potatoes, cubed
2 pints vegetable stock
2 tsp mint
142ml natural yogurt
Boil lentils for 15 minutes. Meanwhlile Cook onion with a knob of butter 5 minutes, stir in garlic, curry paste and the potatoes and heat for 5 minutes. Drain the lentils and add to the rest with the stock until the potatoes are cooked. Place everything in a belnder and whizz until smooth.
Return to the pan and heat through. Ladle into bowls and swirl in the yogurt and season with mint.
In the evening we had friends over for drinks and although things started off reasonably sedentry it got more awry by the end of the night.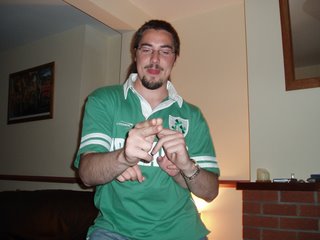 You guessed it - general leching and dancing. I can't be sure but I think I got to bed around 3am and slept right through until 3pm. I was no good for anything on Sunday barring a general tidy up and lying in front of the TV.
I trust you all had a good weekend whatever you got up to. See you tomorrow for more.